Deputy Finance Minister II Launches
'Discover ECRL' Photography Contest For Paya Besar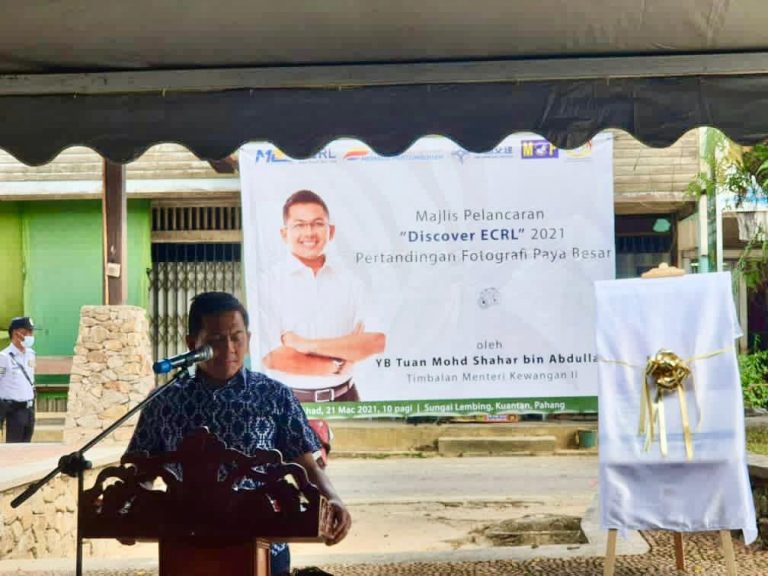 21 March 2021, Deputy Finance Minister II YB Tuan Mohd Shahar Abdullah officially launched the 'Discover ECRL' photography contest in Paya Besar. Also present, Malaysia Rail Link Sdn Bhd (MRL) Chief Executive Officer Dato' Sri Darwis Abdul Razak and CCC-ECRL Managing Director Mr. Bai Yinzhan.
With the theme 'Discover East Coast Renaissance via Lenses', the Discover ECRL photography contest will run from 21 March 2021 until 23 May 2021 involving 10 scenic locations in Paya Besar, namely Gua Charas, Taman Eko Rimba Jerangkang, Bukit Sunrise, Bukit Panorama, Air Terjun Pelangi, Air Terjun Berkelah, Air Terjun Pandan, Gunung Tapis, Tasik Paya Bungor, and the Car Boot Sale Paya Besarat Taman Tas.
Speaking during the launch of the photography contest at Pekan Sungai Lembing's petrol pump site, YB Tuan Mohd Shahar who is also Member of Parliament for Paya Besar, said the photography contest will create awareness towards the preservation of forests, protection of water catchment areas, management of natural resources, and sustainable development among the residents of Paya Besar.
The two month-long photography contest which is open to Malaysian citizens aged 18 years and above, require contestants to take photos at any of the 10 selected locations in Paya Besar and have them uploaded on their own Instagram accounts. Contestants may visit MRL's website www.mrl.com.my or ECRL's official Facebook, Instagram or Twitter (@ecrlofficial) for terms and conditions. The contest is offering cash prizes to talling RM5,000 to the winners.
Meanwhile, MRL and CCC-ECRL said they are glad to organise the Discover ECRL photography contest which will further drive environmental awareness initiatives in Paya Besar as well as promote its natural landscape, scenic areas, and cultural spots as popular tourist attractions. They said the photography contest is the first of many environmental CSR activities under Discover ECRL that will take place at various localities along the ECRL rail network, adding that activities in the pipeline will complement environmental protection, wildlife conservation, recycling, waste management, and energy efficiency among others.