ECRL Project, a Catalyst for Kelantan Development – KeTSA Minister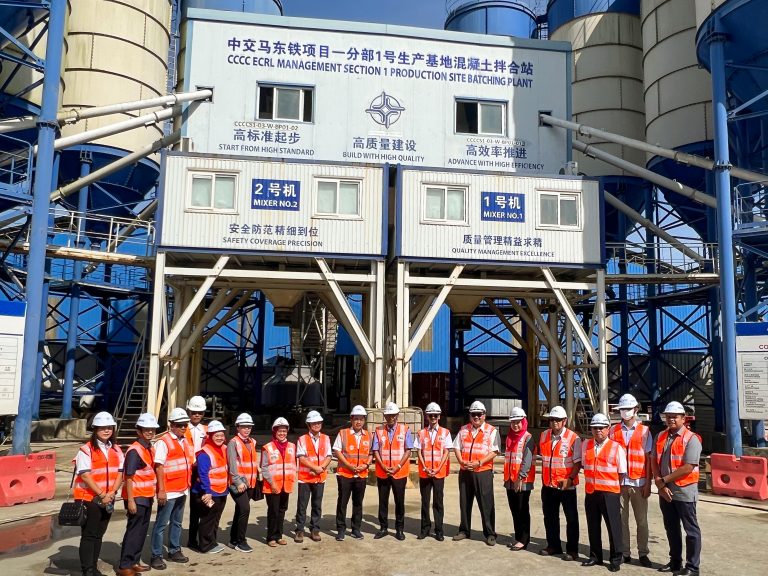 On June 16th, Datuk Seri Takiyuddin Hassan, Energy and Natural Resources (KeTSA) Minister, visited the East Coast Rail Link (ECRL) Section 1 Base Camp in Tunjong, Kelantan.

The minister was welcomed by Dato' Sri Darwis Abdul Razak, Chief Executive Officer of Malaysia Rail Link (MRL) and Deng Bo, Deputy Project Director cum Chief Engineer of China Communications Construction (ECRL) Sdn Bhd.
Also present were Datuk Muhammad Azmi Mohd Zain, Director General of Federal Lands and Mines and Datuk Mohd Haniff Hassan, Deputy Director General of Federal Lands and Mines (SPO).

Datuk Seri Takiyuddin was briefed about the project update especially on the Kelantan alignment, overall progress, station designs and land acquisition status.
In his short speech after the briefing, he said people of Kelantan hope that the ECRL Project will be the catalyst for bigger developments in the state.  
"As a KeTSA minister, representative of the federal government and as Kota Bharu Member of Parliament, who is very much related to the development of the project, I would like to thank MRL and CCC-ECRL for their outstanding works on developing the mega infrastructure in Kelantan," he said.
He also commended that the ECRL Project continues to generate positive socioeconomic spill over effects to the community in Kelantan.
The minister hopes that all issues can be solved to ensure a steadfast progress of the project, while the aspect of wildlife protection and environment preservation will always be prioritised.
The KeTSA Ministry delegation toured the base camp and visited the steel bar processing yard, batching plant, material storage yard, the management office, the employees' accommodation facilities as well as Kota Bharu station construction site.
The ECRL Kelantan alignment with a total length of 43.86 kilometres consists of one tunnel and two stations located in Kota Bharu (passenger) and Pasir Puteh (passenger and cargo).
As of May 2022, the ECRL project progress in Kelantan has achieved 25.91 per cent completion while the overall project has achieved 30.13 per cent completion rate.