ECRL Relaunch Ceremony Successfully Held in Dungun, Terengganu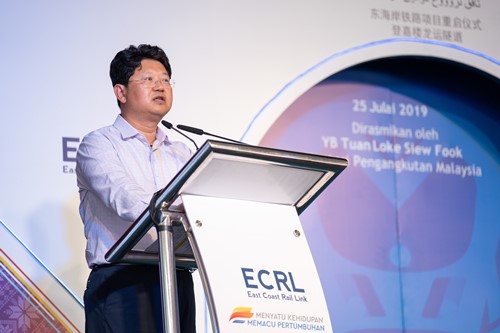 On July 25, the ECRL relaunch ceremony was held at Dungun, Terengganu. Minister of Transport Loke Siew Fook and China Ambassador Bai Tian attended the ceremony and delivered speeches. The Menteri Besar of Terengganu, the Menteri Besar of Pahang, Sun Ziyu, Vice President of China Communications Construction Company, and the senior leaders of MRL attended the resumption ceremony.
Ambassador Bai Tian extended warm congratulations to the resumption of ECRL Project. In his speech, he stated that the completion of ECRL would act as the main transportation linking the east and west coasts of the Malay Peninsula. It will facilitate the coordinated development of the east and west coasts of Malaysia, promote rapid development of related cities along the project, and benefit the Malaysian people. A study by the Malaysian Industrial Development Finance Research Center (MIDF) shows that ECRL is expected to drive Malaysia 's economic growth by 2.7% in the construction phase. The project demand for machinery and transportation equipment will drive imports and fixed asset investment respectively growth of 3.3% and 2.1%. Ambassador Bai Tian pointed out that the restart of ECRL is the mutual aspiration of the people of China and Malaysia as well as the objective need as China-Malaysia economic and trade cooperation develops. In the end, he wished ECRL project a smooth progress and the everlasting friendship between China and Malaysia.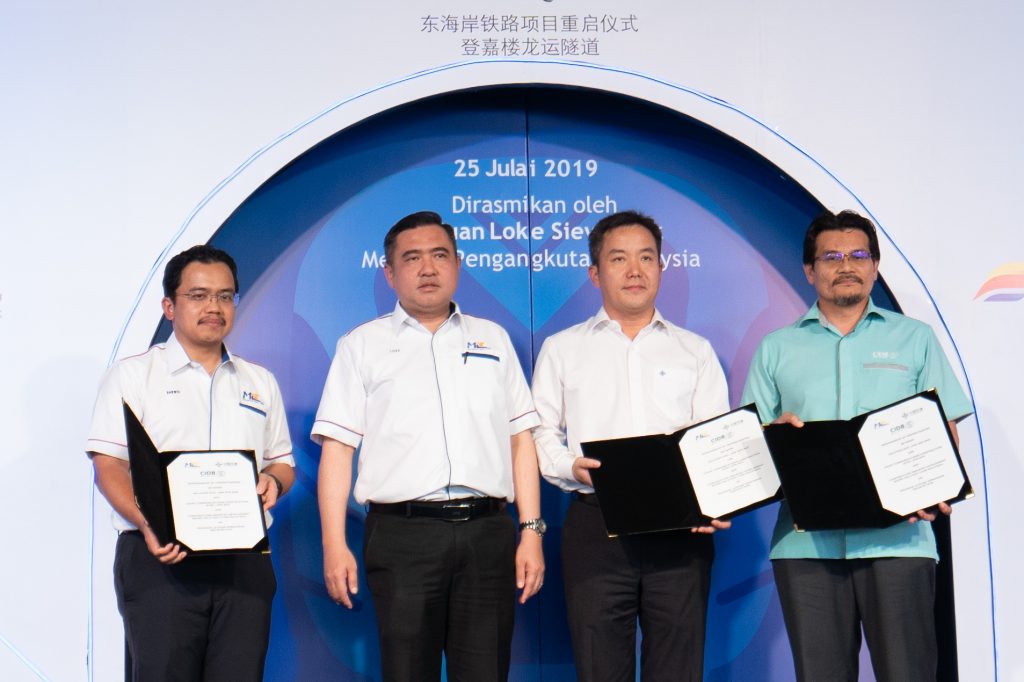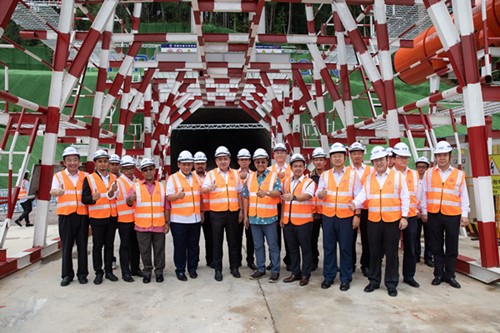 In his speech, Minister Loke Siew Fook expressed his gratitude to the Chinese government for its strong support to Malaysia. Loke expressed appreciation for CCCC's commitment and contributions to Malaysia's transportation infrastructure. He pointed out that the Malaysian government has positioned the ECRL project as a national-level infrastructure, connecting the five states of Peninsular Malaysia and the Federal Territory of Putrajaya, which will greatly promote industry, commerce, logistics, tourism and other industries along the route. ECRL project would improve local public transportation performance and better people's living condition.
At the event site, Ambassador Bai Tian, Minister Loke Siew Fook, Vice President Sun Ziyu and other VIPs jointly launched the relaunch ceremony of the Dungun Tunnel, marking the official restart of ECRL project.
On April 12, 2019, witnessed by the representatives of the Chinese and Malaysian governments, China Communications Construction Co., Ltd. and the head of the Malaysia Rail Link Sdn Bhd signed a supplementary agreement on the ECRL project. According to the supplementary agreement, the total cost of the East Coast Railway is RM44 billion with total length of approximately 640 kilometers long. The project is expected to be completed by end of 2026.