Malaysia Economy Minister Visited ECRL Section 1 Basecamp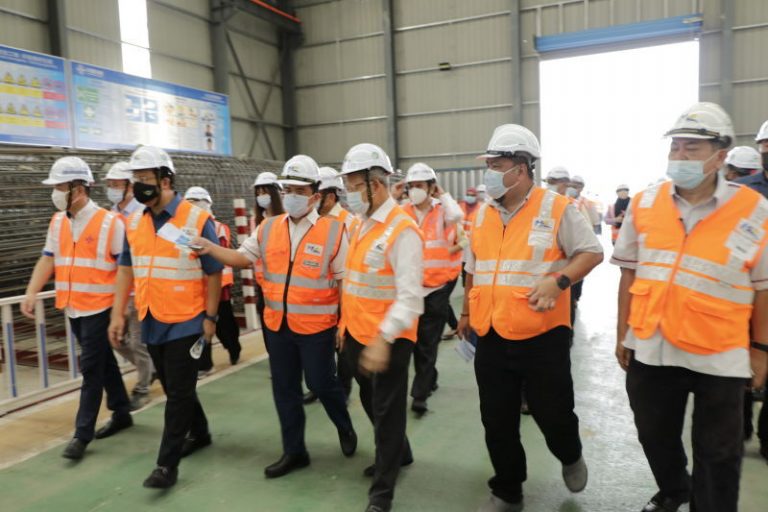 6 March, YB Dato' Sri Mustapha Mohamed, the Minister of Economy in the Prime Minister Office of Malaysia, together with YBhg.Tan Sri Mohd Zuki Ali, Chief Secretary to the Government of Malaysia and Chairman of the Malaysia Railway Link Board of Directors, visited the East Coast Rail Link Project Section 1. YBhg. Datuk Seri Mohd Sallehhuddin Bin Hassan, the Deputy Secretary-General of Prime Minister Office, Dato Ir Haji Mohamad Zulkefly Bin Sulaiman, Director General of JKR headquarters, YBhg.Dato' Haji Nazran bin Muhammad, Kelantan State Secretary, andother representatives joined the inspection as well. The visit was accompanied by Dato' Sri Darwis, the Chief Executive Officer of Malaysia Rail Link, Mr. Bai YinZhan, the Managing Director of CCC-ECRL, and other relevant officers.
YB Dato' Sri Mustapha and his delegation visited the steel bar processing yard, batching plant, material storage yard, the office and living area of the employees. The delegation give high compliments on the standardized management of the Base Camp, the efforts to overcome the impact of pandemic for ensuring the construction progress, and affirmed the integration of China and Malaysia for boosting Malaysia's economic and social development.