PM Launches First ECRL TBM for Excavation of Genting Tunnel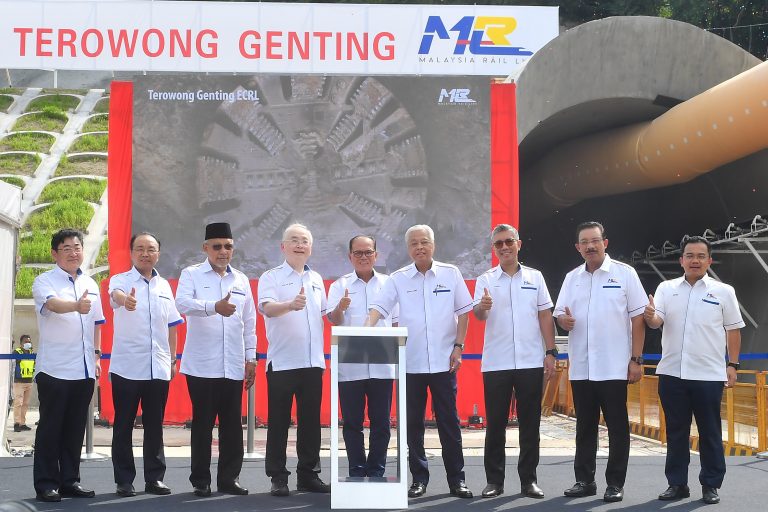 Bentong, 23 June – Prime Minister YAB Dato' Sri Ismail Sabri Yaakob launched East Coast Rail Link (ECRL) Project's first tunnel boring machine (TBM) with a diameter of 8.98-meter, to signal the start of excavation for the 16.39-kilometer Genting Tunnel.
The commissioning of the first TBM (TBM1) marks another major milestone for the ECRL Project as the China-made state-of-the-art machine, which is the largest of its kind for rail construction in Southeast Asia, will bore through the Titiwangsa Range along the Bukit Tinggi area to link Bentong, Pahang with Gombak, Selangor.
At an average excavation capacity of between 400 meters and 600 meters per month, TBM1 is expected to take approximately 2½ years to 3 years to punch through the 16.39-kilometer Genting Tunnel, which is set to be the longest rail tunnel in Southeast Asia upon completion.
Accompanying the Prime Minister at the event include Pahang Menteri Besar Dato' Sri Wan Rosdy Wan Ismail, Kelantan Menteri Besar Datuk Ahmad Yakob, Finance Minister Senator Tengku Datuk Seri Utama Zafrul Tengku Abdul Aziz, Transport Minister Dato' Sri Ir. Dr. Wee Ka Siong, Ambassador of the People's Republic of China to Malaysia Ouyang Yujing, Malaysia Rail Link Sdn Bhd (MRL) Chairman Tan Sri Mohd Zuki Ali, MRL Chief Executive Officer Dato' Sri Darwis Abdul Razak, China Communications Construction Company Ltd (CCCC) Vice President Sun Ziyu and China Communications Construction (ECRL) Sdn Bhd (CCCECRL) Managing Director Kong Qi.
Transport Minister Dato' Sri Ir. Dr. Wee Ka Siong, said the utilisation of the TBM excavation method for Genting Tunnel opens a new chapter in the construction of the ECRL Project, noting that excavation of other tunnels on ECRL's 665-kilometer alignment had adopted the drill and blast method instead.
Meanwhile CCCC Vice President Sun Ziyu said, "The construction of the Genting Tunnel is a challenging task as the tunnel passes through several fault lines and chlorite rock pockets. However, with our engineering teams' experience from other similar projects around the world, we are confident in overcoming these challenges."
"Currently, we are actively recruiting local talents to join our strong team of over 8,909 along the alignment from Kota Bharu in Kelantan to Port Klang in Selangor. Together with more than 5,663 workers from our local subcontractors, we are pushing ahead in full force in more than 300 work sites while we are expecting to engage more local vendors and encourage more participation, especially from the East Coast," he added.
For the record, MRL & CCCECRL received delivery of two TBMs as per schedule in July 2021 from Shanghai based CCCC Tianhe Machinery and Equipment Manufacturing Co Ltd following Factory Acceptance Test (FAT). Both giant machines – TBM1 and TBM2 will be exclusively used for the excavation of the twin-bore Tunnel.