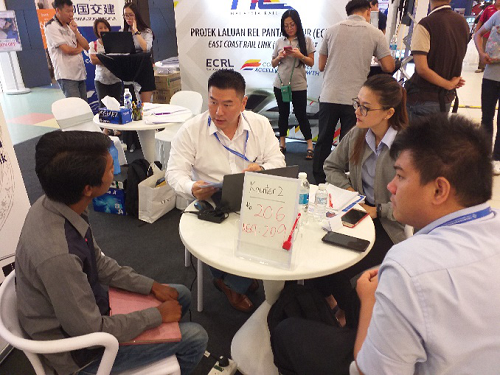 On 21 December 2019, The 640-km East Coast Rail Link (ECRL) project will embark on a recruitment roadshow from December 2019 onwards in a bid to tap local talents in the construction and rail industry to participate in the nation's largest infrastructure project to-date.
The ECRL project seeks to recruit professionals, skilled workers, and general workers as the construction of the rail infrastructure offers job opportunities in various disciplines including engineering and construction, quality assurance and quality control (QA/QC), health, safety, and environment (HSE), commercial, public relations, and administration.
Malaysia Rail Link Sdn Bhd (MRL) and China Communications Construction (ECRL) Sdn Bhd, said the recruitment roadshow would be the ideal platform to stir the interest of Malaysians to join the ECRL bandwagon, as the project stands to generate a workforce of some 23,000 personnel during the peak period of its construction beginning 2021.
The ECRL recruitment roadshow would first take place in areas positioned along the 223-km Dungun to Mentakab mainline (or Section B) as the project's construction works to be expanded from 17 locations to 27 locations along the stretch by year-end would require adequate supply of manpower in the near term.
MRL and CCC-ECRL also said the roadshow would kickoff at the East Coast Mall in Kuantan, Pahang on 5-8 December 2019. It will continue covering destinations along the ECRL rail network in the East Coast states and the Klang Valley throughout 2020.
It is noted that Malaysians interested to join the ECRL workforce may walk-in to register and submit their curriculum vitae for pre-screening at ECRL booths to be set-up at the East Coast Mall, as preliminary screening for potential candidates would be conducted by interviewers on the spot. Alternatively, interested Malaysians may also apply online for ECRL jobs.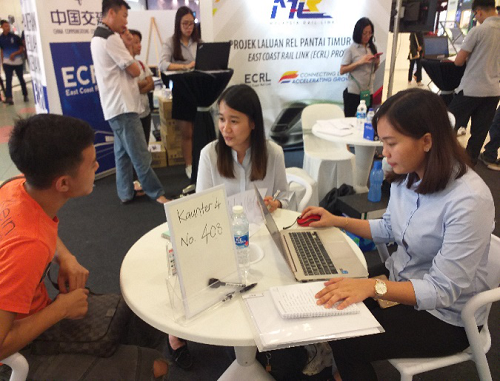 "This recruitment roadshow provides an avenue for local talents to truly understand the ECRL project's scale and the vast job opportunities it presents. The ECRL project is set to create more jobs for the local community during project construction phase, and an additional 4,000 jobs during its operation and maintenance phase," said China Communications Construction (ECRL) Sdn Bhd.