Terowong Dungun Breaks Through 6 Months Ahead Of Schedule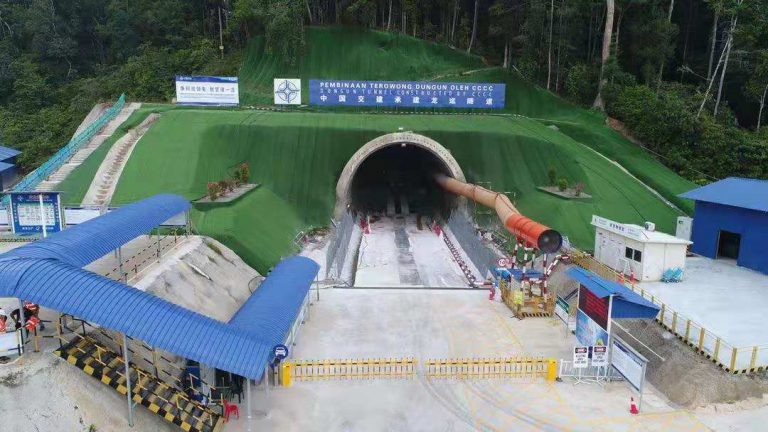 The East Coast Rail Link (ECRL) project has recorded another major milestone as it achieved a tunnel breakthrough at the 871 meters single-bore Terowong Dungun in Terengganu six months ahead of schedule. The final blast at Terowong Dungun on 29 May 2021 broke through the last barrier some 12 meters from the tunnel's entrance portal. The achievement at Terowong Dungun is a culmination of approximately 641,520 man-hours and the adoption of the drill-and-blast method of tunnelling that bored through the moderately weathered schist rock.
Tunnel excavation works for Terowong Dungun had progressed to 97.4 percent prior to the breakthrough, while its permanent lining had rose to a decent length of 702 meters. With a tunnel height of 11.8 meter and width of 12.9 meter, Terowong Dungun was constructed to avoid major open cutting and to preserve forest reserve when travelling across the Kuala Dungun area. Malaysia Rail Link Sdn Bhd (MRL) Chairman, Tan Sri Mohd Zuki Ali, said the dedication and teamwork of some 100 ECRL personnel at all levels had paved the way for the tunnelling works and breakthrough at Terowong Dungun to be ahead of schedule, noting that the overall infrastructure works for the tunnel is expected to be completed by the second quarter of 2022.
"We are pleased that the ECRL project is still progressing slightly ahead of schedule at 22.62 percent as at May 2021 despite the Covid-19 pandemic which effectively reduces work hours and manpower at project sites," he noted. Meanwhile, CCC-ECRL's Managing Director Bai Yinzhan is confident that the project team is adjusting well to work under the strict enforcement of SOPs and is making advance progress while keeping the work sites safe. "Our team had made tremendous efforts to coordinate with our local contractors and Bumiputra project partners to ensure resources such as manpower, materials, and machines are available where we need them. We are grateful for the support and understanding given by our subcontractors. Special thanks also go to our team in Section 4 for achieving two remarkable milestones within the short span of two months," said Bai.