Transport Minister Lauded on the ECRL Progress During His Site Visit.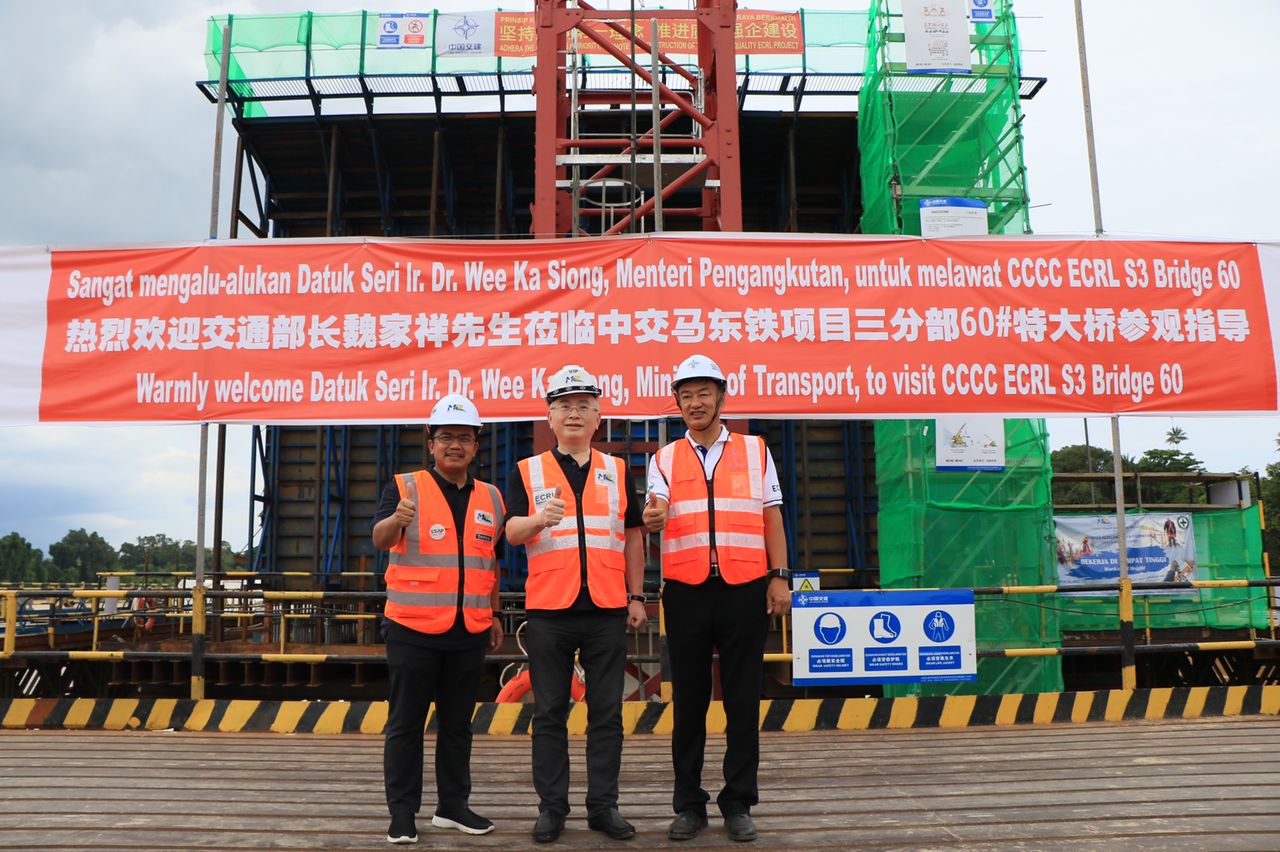 2 September 2022- The progress on the construction of the East Cost Rail Link (ECRL) project is satisfactory and in steady progress, says YBhg. Datuk Seri Ir. Dr. Wee Ka Siong. YBhg. Datuk Seri Ir. Dr. Wee Ka Siong was given a tour of a casting yard basecamp in Section 1, Jerus Kelantan and continues to Bridge 60 site in Serada, Kuala Terengganu the next day.  
The minister was accompanied by Malaysia Rail Link Sdn Bhd (MRL), Chief Executive Officer Dato' Sri Darwis Abdul Razak, and China Communications Construction (ECRL) Sdn Bhd Deputy Project Director Liu Jianming and Corporate Director, Grace Cheng.
The visit began with a safety briefing followed by technical briefed. The delegation also have briefed on the current construction progress by Chief Executive Officer, Dato' Sri Darwis Abdul Razak and Deputy Project Director Liu Juanming.
Dr. Wee said, "I was amazed to see how machinery was used, how steel bars were processed using advanced equipment and how they all came together in a solid structure and sent to construction sites.
The delegation then proceeded to visit Bridge 60 in Serada, Kuala Terengganu. During the visit, he was very satisfied with the progress and the technology being used for the construction of the bridge. In addition, the total length of Bridge 60 is 5km, which is the longest bridge in the construction area of Section 3. This bridge uses two types of span- the Continuous Beam/Box Girder and the T-Beam and crosses Sungai Terengganu.
Dr.Wee in other hand mentioned, he was impressed with the commitment given on women manpower and dedication in fulfilling their task on site.