Tunnel Boring Machine For ECRL Project Arrives From China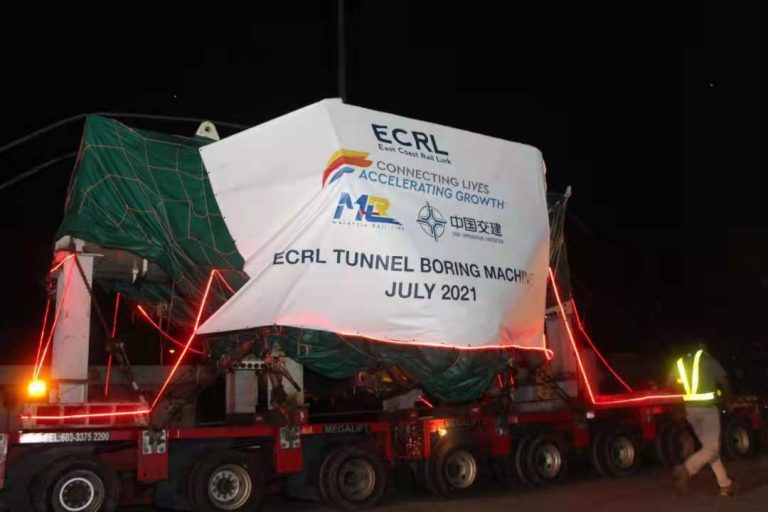 On July 9th, 2021, The East Coast Rail Link (ECRL) project celebrates a major milestone as the first of two tunnel boring machines (TBMs) arrived as per schedule after extensive factory tests in China.
Manufactured by CCCC Tianhe Machinery and Equipment Manufacturing Co Ltd in Shanghai, China, the TBMs were custom-made for use in hard rock condition. Each TBM Head weighs about 900 tons with 25metre in length and 8.98metre in diameter. Together with its back-support system that houses the control room and substation, it weighs a massive 1,600 tons and measures 266metre in length, making them amongst the largest TBMs for rail tunnel excavation in Malaysia.
Chairman of Malaysia Rail Link Sdn Bhd (MRL), Tan Sri Mohd Zuki Ali said the ECRL project has entered a new chapter with the delivery of the TBM to spearhead the excavation works for the 16.39kilometre twin-bore Genting Tunnel between Bentong and Gombak.
MRL Chief Executive Officer Dato' Sri Darwis Abdul Razak, said the Genting Tunnel will be the first ECRL tunnel that will be excavated using the TBM method as compared to the drill and blast method used on the project's existing tunnels. "It is expected for the TBM to take about 3 years to bore through the Genting Tunnel," he said. 
Meanwhile, CCC-ECRL's Managing Director Bai Yinzhan said that "In anticipation of the TBM arrival, we are increasing our headcount in Section 7 in Bentong for numerous management and non-management positions such as foremen and Crane operators. As we move forward, our plan is to engage more local workforce and create job opportunities for the communities along the alignment. Our team is ready and is looking forward to the TBM's commissioning in the coming months," said Bai.